Food quality issues are unfortunately part of the supply chain, not just during the COVID-19 pandemic, but at all times. These issues challenge farmers and food manufacturers, and in order to understand how we can help with our technology, we always keep a close eye on them. 
It's also important for us to share this analysis with food industry professionals who want to avoid the same mistakes and prevent food recalls and food contamination. So, without further due… let's look back at how the EU did in terms of food quality in 2020.

A total of 1168 food recalls were reported in the RASFF system, which, according to our analysis last year, represents an increase of 13% (133 notifications) compared to 2019. Although the number of recalls slowed down.
Nuts were the most recalled product, with 142 notifications, followed by cereals and bakery products, with 118 and poultry products, with 115. Fruits and vegetables and dietetic supplements came in 4th and 5th place, with 103 and 76 notifications, respectively.
Does your factory produce any of these? Then carry on reading to find out some of the most important issues you should be looking out for.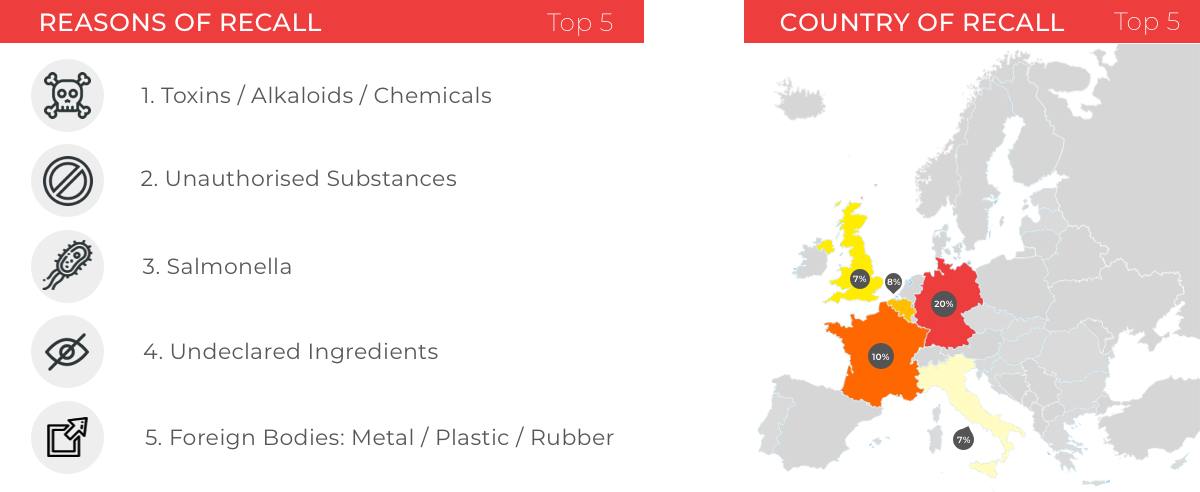 Toxins and unauthorised substances were by far the most common reasons for recall, with 310 and 306 notifications, respectively. Pathogens were also frequently detected, with 150 issues attributed to Salmonella. Undeclared ingredients and foreign bodies also made it to the top reasons for recall, with 102 and 106 notifications. This is very similar to the top 5 reasons for recall in 2019.
A very important issue which arose at the end of 2020 was the presence of very high levels of Ethylene Oxide in sesame seeds from India. Ethylene oxide was used to inhibit the growth of Salmonella during the storage of sesame seeds in India, but reported levels of this pesticide were as high as 1000 times more than the EU allowed maximum of 0.05 mg/kg. Since sesame seeds are used as an ingredient in so many other products (burger buns, cereals, salads, etc.), this issue has widely impacted the food supply chain in Europe.
In terms of countries of recall, the top 5 notifying countries include Germany, France, Belgium, Italy and the UK. This does not always mean that there is more faulty food in these countries, but it also shows that these countries have tighter control measures when it comes to food quality issues. Germany and Belgium were particularly active in reporting cases of Ethylene Oxide, while most issues in France had to do with Listeria, Salmonella and Norovirus. Italy had problems with Norovirus and high levels of mercury in fish and fish products, and the UK was particularly affected by undeclared milk in prepared dishes and with Salmonella in poultry products.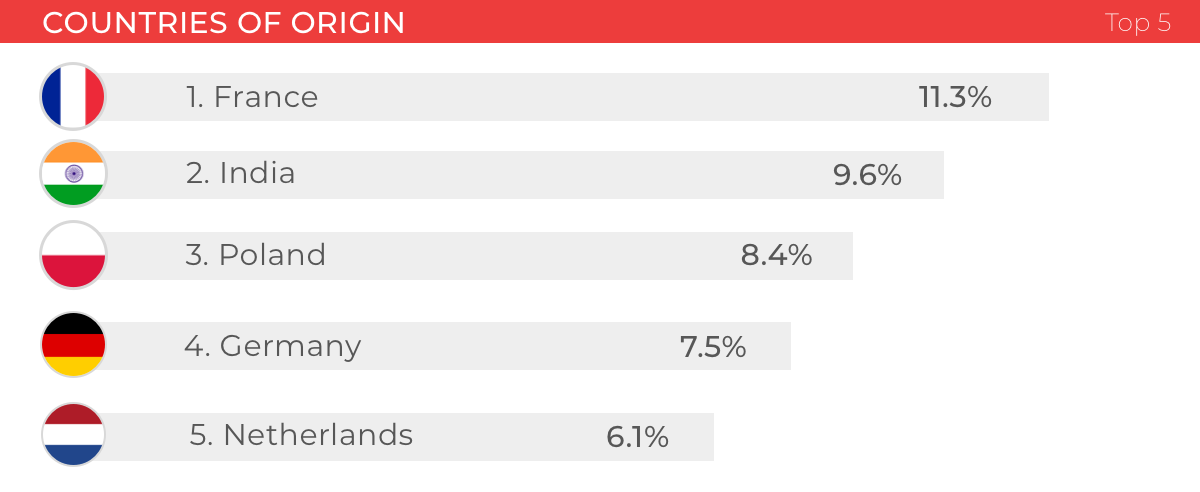 Looking at the countries where recalled food originated, France had most food quality issues, frequently due to Listeria in meat products and cheese. India came second, mostly due to the  Ethylene oxide issue mentioned before, not just in sesame seeds, but also Basmati rice. Poland was highly affected by Salmonella in poultry meat, a problem that unfortunately went on throughout most of last year. Germany and the Netherlands had a mix of quality issues in their food products, mostly due to foreign bodies and undeclared substances.
Keeping track of food recalls can help you understand what issues you should be looking out for. Make sure to follow our social media pages (LinkedIn, Facebook and Twitter) to get monthly overviews of food recalls in Europe and (soon) in the US.
On-the-spot, rapid testing devices will also help you to react more quickly and stop an issue earlier, before your products are released to the market. Get in touch with SwissDeCode to explore how our solutions can help you improve the efficiency of your quality control processes.